Real STORIES. real PEOPLE.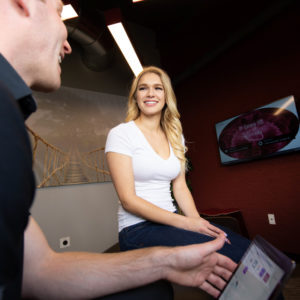 Our word is only worth the real-life results we provide for our members.
Their stories are first-hand accounts of the quality, dedication, and resilience they've experienced here at Resilience Code. 
"This is the first medical establishment where I feel seen...people listen to me, there's eye contact...I feel seen and heard. I feel seen for the first time. This doesn't happen in healthcare."
-Celest C, Infinite Health
"It's important that I don't miss a day training. That's why I go to Resilience Recovery. I put my body through intense training every week, and the recovery tools and staff have helped keep me healthy, which allows me to continue to put in the work and get better. I've never felt better or more in control of my body."
-Christian McCaffery, NFL Running Back for the Carolina PantherS
"Dr. Prusmack is undoubtedly one of the best surgeons in the country. His unique surgical process was instrumental in getting me back to peak performance during the last few years of my career. Now that I am retired, Resilience Code has helped me keep the same focus on my health and building resilience through their comprehensive approach to wellness. I always took pride in taking care of my mind and body, but the Resilience Code has given me the knowledge to take it to a whole new level. It's comforting to have a trusted team I can rely on."
-Demarcus Ware, 9-time All-Pro NFL Defensive End 
"Resilience Code provided for me a way to see my health's future through
one lens. Dr. Prusmack and his amazing RC team provided extraordinary
service from start to finish of my visit. I was most impressed by the state-of-the-
art technology they employed to examine me inside and out. The results
have made me aware and empowered over my own health, posture,
sleeping patterns and nutrition in ways I had not expected, and which are
already causing a major impact in my daily life."
-Cyrus P, Institutional Finance Manager
"My experience at Resilience Code has been eye opening to
say the least. With my busy travel schedule, it is difficult to take a
proactive approach to my health. RC makes it easier by having
everything you need in one place, which is super convenient.
Through their comprehensive testing, the team found the real
causes of my current issues and provided me with an actionable
plan to prevent them in the future. I learned so much in my
three days at RC and I'm very grateful for the life changing
experience. As an HR Executive, I realize the importance of
companies preserving their key executive's health and
performance. I would recommend Resilience Code's program
to any company, as I've done with my firm."
-Stephanie K, Head of HR, Asia Investment Firm
"While on vacation in Toronto, Canada with my family, I injured
my back. I called the Resilience Code Concierge Team and
within one hour, I was getting examined by the best back
specialist in town. RC's referral network is amazing."
-Jennifer T, Silicon Valley Entrepreneur
"I cannot begin to say enough about all of the phenomenal staff that I am working with here at RC! Each team member provides the highest quality in their focus area. Their focus on providing excellence sets RC in a league of its own. So my staycation at RC in the tremendous care of Nick, Erica, Meg, & Jackie has involved a lot of work, recovery modalities, massage work, and so much more making it a summer well spent!"
-Peg G